Orlicky's Material Requirements Planning (3rd. Edition)
by Carol Ptak and Chad Smith

Available in June 2011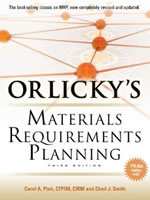 The classic MRP work up-to-date with new information on supply chain synchronization
Thoroughly revised, Orlicky's Materials Requirements Planning, Third Edition reviews the poor business results embedded in most of today's business systems; discusses the core problems causing the results; presents and discusses an alternative pull structure for planning and controlling materials flow; and presents initial results from actual implementations. This new edition reveals the next evolutionary step for materials and supply chain synchronization in the modern manufacturing landscape. This update describes:
A solution to a chronic MRP-related problem that plagues many manufacturers: shortages of materials, components that block the smooth flow of work through the plant
A competitive edge through strategic lead time reductions
Significant reductions in total inventory investment
Significant increases in service levels
This new edition helps companies tackle three pervasive problems: unacceptable inventory performance; unacceptable service level performance; and high related expenses and waste.
Materials or Capacity – Where to Focus First?
The core driver behind the changes felt by every manufacturer today is that global capacity now exceeds global demand. Where companies struggled to wring every bit of output out of scarce capacity in the late 1990's, now most companies worldwide have more internal capacity than market demand for their products. The assumptions made in the earliest days of MRP that there was infinite capacity are probably more realistic today than when MRP was first developed.
Related Info
Share this video
The reason for Technology
by Dr. Eliyahu M. Goldratt

The proof that any technology is necessary but not sufficient is demonstrated on two extreme examples: MRP and ERP.