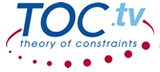 FULL ACCESS

THROUGH JUNE 10th for 499.00
TOC.tv has grown significantly in the last three years. We would like to share the amazing amount of Theory of Constraints knowledge available in this extraordinary video library. As such we are launching a ONE TIME OPPORTUNITY!

Includes access to:

Topics:

Videos:

Get access to over
400 TOC videos
on TOC.tv for a
"Very Special Price"

HURRY! The sooner you purchase, the sooner you will receive your
full access and have the most number of available days.

REMEMBER full access will end on June 10th.