The Odyssey Program

ODYSSEY 2011 ANNOUNCEMENT
Freshman Program: July 18th to July 22nd, 2011
Alumni Program: July 23rd to July 25th, 2011
WHAT IS THE ODYSSEY PROGRAM?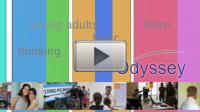 The Odyssey Program is a 5-day program that allows participants to apply the powerful insights and thinking processes of Theory of Constraints's (TOC) to their own life journey. The program is open to everyone wanting to invest time to discover what really blocks them to set and achieve ambitious goals or make important decisions and how to practically challenge assumptions or overcome obstacles that hold us back from achieving more "goal units" or leading more fulfilling lives.
This program is aimed at helping attendees develop and apply critical thinking skills to discover the cause-effect patterns, generic conflicts and assumptions that limit success in the various aspects of their life (e.g. wealth, health and happiness) and discover how to practically break these conflicts in ways that do not have any major negatives and or major implementation obstacles.
The Odyssey this year will take place in San Jose State University (SJSU), the oldest and one of the most prestigious universities in California, set in the heart of Silicon Valley.