The Odyssey Program
This program is aimed at helping attendees develop and apply critical thinking skills to discover the cause-effect patterns, generic conflicts and assumptions that limit success in the various aspects of their life (e.g. wealth, health and happiness) and discover how to practically break these conflicts in ways that do not have any major negatives and or major implementation obstacles.
The Odyssey this year will take place in San Jose State University (SJSU), the oldest and one of the most prestigious universities in California, set in the heart of Silicon Valley.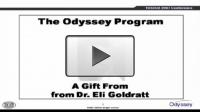 Odyssey Program Testimonials
Three participants to the Odyssey Program share examples and their views after going through this live changing experience.