Eliyahu Goldratt's The Goal is unusual among business management … The Goal is a novel centered on a production manager named Alex Rogo who has three months to turn around a deficient, unprofitable manufacturing plant. The Goal explains the "Theory of Constraints" … focuses on bottlenecks, the great hindrances to productivity. Rogo uses the Socratic method … coming up with steps to solve the plant's problems.

Dr. Goldratt's best selling book, The Goal, has once again been selected, this time by TIME Magazine as one of the 25 books that changed the way we think about management.
The Goal Movie

How to put the TOC solution for operations to work in your company

Also in English, Spanish, Hindi and Chinese (Simplified and Traditional)

Watch a Free Excerpt >

For TOC Weekly subscribers

until September 28th

Watch the Complete Movie >

Buy The Goal Movie and receive a
25% discount
until September 30th.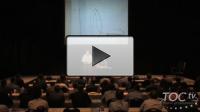 TOC for Operations
by
Eliyahu M. Goldratt
It is well known that implementing the TOC solution for operations brings significant benefits, being one of them the release of additional capacity without any investment in equipment. In the case of production lines or production environments with well implemented Kanban systems the release of additional capacity can be even more significant. Even though TOC has shown that an additional 30% increase in capacity is possible, it turns out that a closer look into these environments (called "I plants" due to its configuration) can bring up to 60% more capacity. Goldratt explains why and how this is possible.
Watch a Free Excerpt >
For TOC Weekly subscribers until September 28th