Session 1 - Operations - DBR, Buffer Management, Difference between Plant type A, type T and type I
This learning tool is an interactive presentation containing detailed knowledge for applying the Theory of Constraints into Operations. Includes examples, case studies and simulations. As shown by Alex Rogo in Dr. Eli Goldratt's best selling book The Goal, you can transform operations to higher performance levels by changing to the throughout world mentality.
Session 2 - Finance and Measurements - T, I & OE, Throughput Accounting, Five Focusing Steps, Make vs. Buy, Investment decisions
Learn the significant impact of using Throughput Accounting on judging the system as a whole, profit centers, investment on equipment, make/buy alternatives, and product/service profit.
Session 3 - Project Management and Engineering - Critical Chain (CCPM), Project Buffer, Feeding Buffers, Staggering
Learn the significant impact of using Critical Chain Buffer Management and its approach to deal with dependency, variability, multitasking and staggering to significantly improve execution performance results in project based environments.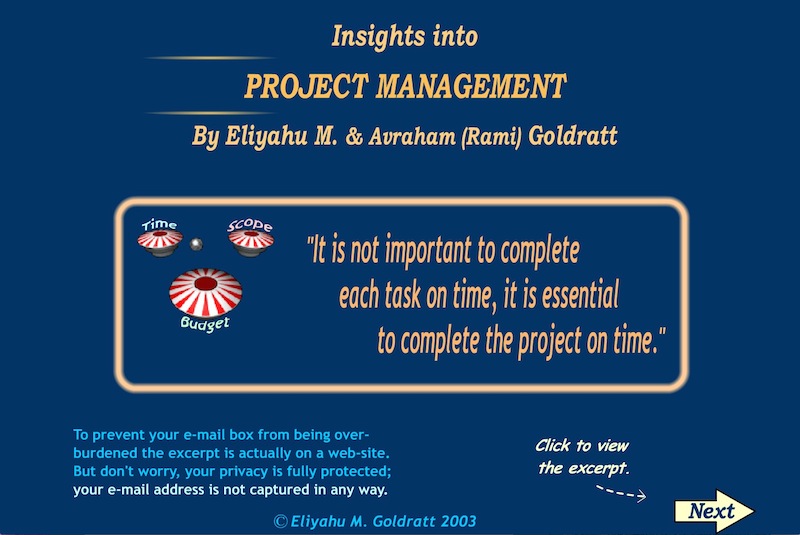 Session 4 - Distribution and Supply Chain - Pull System and Replenishment, TDD and IDD performance measurements
Learn and understand the Pull System and Replenishment approach to manage and measure the supply chain and distribution system of any organization.